Whale watching has been a popular recreation in Iceland for the past decades. Not everybody knows that the first tours in Iceland took place in Hauganes.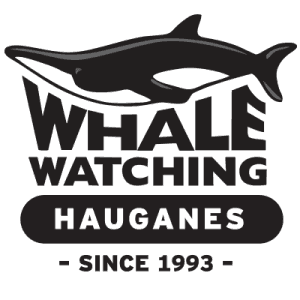 Whale watching Hauganes has been operating since 1993 and shows thousands of guests the whales in our neighborhood each year. The company is located right on the pier in Hauganes and all the staff live in the village.
Their boats, Niels Jonsson and Whales are traditional oak ships built in Iceland in the 20th century as fishing boats. The ships have been renovated as comfortable passanger ships and on board you can enjoy refreshments. They recommend that you dress warmly because the temperature and wind can be much colder out at sea than on land, but all guests will get a flotation overall before heading to sea.
The tours last 2,5-3 hours and for the last 20 min or so, of the tours, the guests can pick up a fishing rod and try their best to get a catch from the Atlantic Ocean. You will get to keep your catch and the captain will filet the fish on board so you can take it with you when you leave.
You can find more information about Whale watching Hauganes at their website: www.whales.is
Book the Whale Watching & Sea Angling (approx. 20min of the tour) here:
Loading…