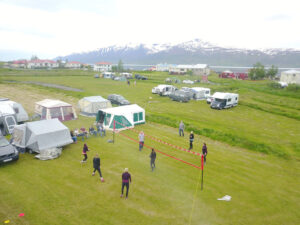 There are no guesthouses or hotels in the village of Hauganes – there is a Camping area that has just recently been established and offers a nice service with wc and electricity. It's perfectly located in a quiet area but within walking distance to Baccalá bar and the Black beach Hot tubs.
There are a few apartments on AirBNB if you search for Hauganes Iceland.
We also highly recommend the resort at SELÁ with a magnificent view over the village and the cabins at Ytri Vík across the creek.
Hauganes is also only a 10 min drive from Dalvík and Hótel Hjalteyri.